WrestleMania 27 DVD Review
July 24, 2011 · 0 Comments
WRESTLEMANIA 27
DVD Review
As always, WrestleMania is an event highly anticipated by most in the wrestling community. Fans and wrestlers alike wait this pay per view more than any other on the calendar; so what did this year's bring? This, the 27th WrestleMania; hailing from the Georgia Dome in Atlanta, Georgia for the first time in it's history and hosted by The Rock; featured 8 matches and lots more besides.
Kicking off with Keri Hilson singing America the Beautiful and then straight down to business with The Rock entering the ring to introduce the show in front of almost 72,000 people! (His entrance music still gives me goose bumps!) Rocky cuts a promo like only the Electrifying One can, enthralling the crowd and getting them fired up for the first match of the night, which, to my surprise, is Edge vs. Del Rio.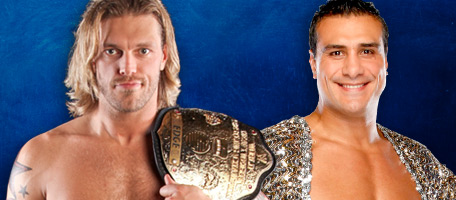 In hindsight a very sad match since it was Edge's final televised match before being forced into retirement with a serious neck injury. Del Rio earned this match as the current Royal Rumble winner (The first in history to feature 40 superstars instead of 30) Definitely match of the night even if it was on first. Edge and Del Rio put on a fantastic show that sets the Dome alight! After the match Edge and Christian take out some frustration on Del Rio's prize Rolls Royce that's parked on the entranceway.
There's a backstage segment with Snoop Dogg and Teddy Long where they're auditioning to go on tour with Dogg. William Regal raps, Khali and Beth Phoenix sing Summer Loving, Yoshi Tatsu and Chris Masters do 'We Will Rock You'… it's bizarre, but it's WWE and it's WrestleMania I guess it's to be expected!
And speaking of Bizarre. Theres also a Mae Young/Rock backstage segment that has to be seen to be believed! Good old Mae! (And also a major mark out moment when Rock and Austin come face to face!)
Randy Orton vs. CM Punk is another great match worth talking about. Their feud going into Mania had been a good one, with Punk being leader of the New Nexus and terrorizing Orton and his family for weeks. This of course fuels Orton's wrath and he has the upper hand for the opening minutes of the match but Punk eventually gets into the match with a few stiff kicks to Orton, aiming for his venerable leg to try and take him out.
The crowd are into this match from start to finish and no matter how evil Punk gets he will always have a huge fan base among the wrestling community. Towards the end of the match Orton's leg gives way as he goes to punt Punk in the head and Punk gets a sick smile on his face!
Eventually Randy gets the RKO out of nowhere (one of the best finishers ever in my humble opinion) to get the victory. Excellent match.
Another backstage segment with The Rock, this time mocking Cena's 'Number one fan' Peewee Herman with Mean Gene Oakerlund.
From this we go straight into being introduced to the Hall Of Fame Class of 2011, major mark out moment for me seeing Shawn Michaels introduced!
The Michael Cole/Jerry Lawler thing is in a way pretty sad. Jerry Lawler's first match at Mania after all these years and he has to face a tool like Cole? It was awful. Enough said.
I actually enjoyed Triple H vs. Undertaker (no holds barred) a lot better this second time of watching it. At the time I don't think I HAD time to sit through the whole pay per view and ended up fast-forwarding a lot of this match. It is a good match, not my two favorite people in the business but there's no denying that's a couple of true legends of the game in the ring right there!
The 6 person Tag Team match was slightly sh** on by the media afterwards, with rumors of Morrison being pi$$ed at Trish and the rest of it. So when I watch it again all I'm doing it looking for proof of that! Aside from the fact that once again WWE sticks a 'celeb' into a match that has no business being there… as I said earlier though this is WWE and it's WrestleMania and this is what they do!
No DQ.. Cena… Miz… there's not a chance I WOULDN'T enjoy this main event!
An Awesome video segment is shown with The Miz watching his 'history' on multiple screens and then the current champion comes out through huge inflatable 'AWESOME'! I love this guy, he's just got so much going for him and I hope he's around for a long long time!
In true Cena fashion he comes out to something as extravagant as a full on gospel choir, with a voice over saying a 'prayer' while we see images of Cena throughout his life and career (Giving me goose bumps again!) I won't start on my Cena rant here, but all I will say is if you hate him ask yourself why? He works so damn hard, not just for the wrestling
business but for Make A Wish too, how can anyone hate someone that brings so much good into the world? That is all!
Cena comes out to lots of booing and jeering as usual and makes the long run to the ring to face The Miz. Miz is frustrated as this match has taken somewhat of a back seat to the fact that The Rock and Cena cannot wait to get into the ring together so Miz definitely has something to prove! (And might I add that both these guys actually look nervous.. which just adds to the spectacle!)
Cena's every move gets booed, I guess it flattens an already tired crowd because it is pretty quiet throughout the match.
At one point in the match the ref is knocked out as Cena goes for the AA and gets the cover there's no one there to count. Alex Riley gets into the ring and knocks Cena out with the briefcase they carry around with them but still, as the ref comes to, it's not enough to get a three count on Cena.
Cena delivers another AA with huge force and gets a 2 and 9/10 pin! Closest cover of the night for sure! Both guys end up laid out over the security wall and the referee counts ten and makes it a draw. I would think the crowd are disgusted with the result… but they don't come to life until The Rock's music hits the Tron and the official host of WrestleMania 27 throws down his jacket as he strides to the ring with something to say! Before he gets to speak the GM's lap top bleeps but Rock won't let anyone go and read out the email, he goes himself to the podium and says, 'Can I have your attention please! I've just received an email from the raw anonymous general manager! And I quote: As Raw General Manager I think…" he pauses and then yells "IT DOESNT MATTER WHAT YOU THINK!" trashes the lap top and gets back into the ring. He says The Rock says there's no way WrestleMania is going to end like this and the match must restart! No DQ, No time limit and no crying to your momma!
He leaves the ring and Miz & Cena get back to their match straight away Cena goes for the AA but Rocky gets in and Rock Bottoms him! The match was great, despite what the live crowd thought of it; and any time The Rock is on my TV I'm happy anyway!
As Miz cradles his WWE championship The Rock stares him down for a while then gets into the ring and lays the smack down on the retaining WWE Champion!
Special features include:
United States Championship Lumberjack Match
Daniel Bryan vs. Sheamus
WrestleMania 27 3rd April, 2011
Edge and Alberto Del Rio History


Plus WWE's Legendary Moments as chosen by John Cena (to tie in with the Legendary movie)
Cena Welcome
The Austin Era Begins
A Degenerate Invasion
The Millennium Man Arrives
This Is Your Life
SmackDown Gets Terminated
Cena Intros Rock & Rattlesnake
Corporate Punishment
Got Beer?
Jimmy Cracked The Boss
TLC 2
The Rock Says
Game On
Cena Intros 9/11 Tribute
A Night To Remember
& MORE!!
Disc three is the Hall Of Fame show, including Sunny, Hacksaw Jim Duggan and of course HBK Shawn Michaels being inducted into the class of 2011.
WrestleMania in my opinion is always worth buying and this one was slightly more special than most years with the return of the Rock and Edge's last televised match. Definitely one to have in your collection.
AVAILABLE FROM SILVERVISION.CO.UK
By Martin Bean